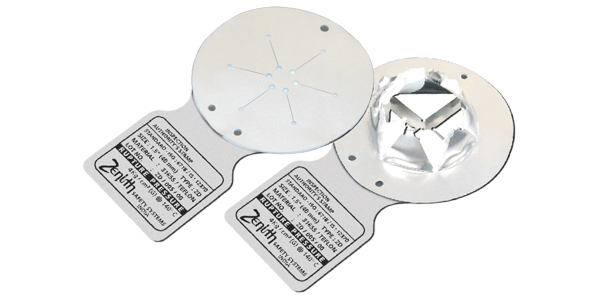 This is a composite disk comprised of three part :
A slotted metal top section is the pressure controlling element.
A Teflon seal isolates the top section from the process.
The slotted metal bottom section will withstand vacuum. The flat design minimizes the possibility of the disk damage during installation. This rupture disk is suitable for Chemical Reactors, heat exchanger & in textile process house machinarises.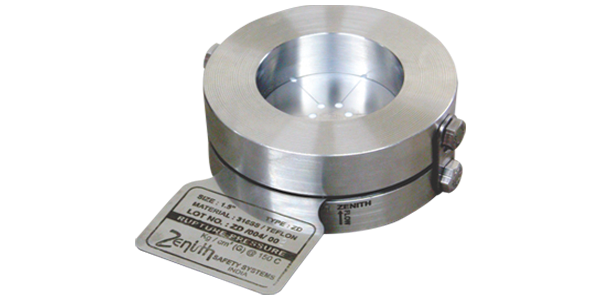 The simplicity of the ZD Rupture Disk holder design incorporates several features which allow easy installation. Asymmetric alignment pins in the Disk holder mate with location holes in the repture disk, thus eliminating incorrect installation and slippage. The flat set design in combination with a metal-to-metal " bitetype" seal provides a leak-tight system. The ZD holder and rupture disk are easily pre-assembled with side lugs.
Available in S.S.304 & S. S.316
FEATURES
Size 1.5″ (40 mm) & 2″ (50mm)
Pressure 1.25 to 8 kg / cm2g @ temp. up to 200°C
Flat composite metal design
Teflon liners provide seal and corrosion resistance
Can withstand full vacuum
Operates up to 80% of disk's rated pressure
Standard materials of construction 316SS/ TEFLON
Manufactured and tested as per ISO-6718 : 1991 & IS-12370 : 1993
Inspection and burst test in presence of BUREAU VARITAS
Each rupture disk is stamped with internationally reputed third party inspection authority
BENEFITS
Minimal fragmentation
Liquid, Gas and Steam service
Extended life
Reliable-Fast acting
Easy Installation
Leak-tight
Fail-safe
No vacuum support needed